360 Woman Africa
Conference 2020
31st October 2020
Yes You Can:
Redesign The Future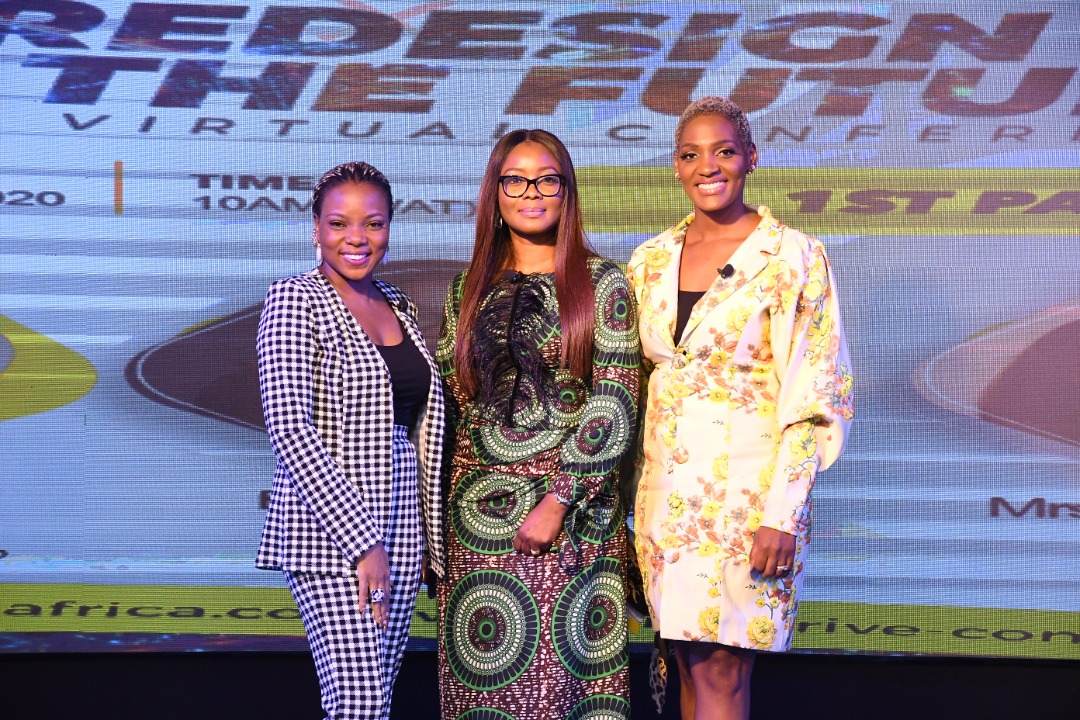 Women in Africa and beyond have been encouraged to see the current change and the need for a total overhaul which includes redesigning the future as a normal challenge that requires everyone desiring of great results to embrace. Conversations and keynote speeches such as these were the many highlights of the 360 Woman Thrive 4th Annual Conference (1st Virtual Edition) held in Lagos Nigeria.
Special guest and Speakers at the conference were Dr Gabriel Ogbechie (GMD, Rainoil Ltd), Tara Fela-Durotoye (CEO, House of Tara Intl), Folake Soetan (CEO, Ikeja Electric PLC), Yetunde Bankole-Bernerd (ED, FlinchGlow Group), Mosunmola Umoru(CEO, Farmshoppe Ltd), Ubong King (International Speaker) etc.
Yvonne Chioma Ofodile Founder, 360 Woman Africa and MD, Zetile Oil and Gas Ltd in her welcome speech celebrated all registered delegates present (over 1,500 views) from over 16 states in Nigeria and 5 countries (Kenya, Ghana, United Kingdom, Zimbabwe) , introduced 360 Woman Africa the values, gaps it fills and impacts it has made for over six years within the social structure space in Nigeria. She then urged delegates to sit tight as they begin to unravel the many ways to disrupt and redesign the future they so desire.
The first keynote speaker Dr Gabriel Ogbechie commended the entire 360 Woman Africa team for the great work the keep doing to help position women in Africa to do and become more. He spoke further spoke on self-belief, financial discipline, resilience, perseverance as a major key to building a sustainable business and brand. Folake Soetan (CEO, Ikeja Electric Plc) spoke on the topic Future-Proofing your Career, where she expounded using current statistics and trends that speak to the not so fantastic economic and social realities of women. Making great emphasis on female-owned businesses that contribute significantly to the economy of Nigeria she made it clear using proven numbers that when women are given the opportunity and permitted to thrive they do so extremely well. Not minding the social and cultural bias that work against women in Africa and Nigeria which is the reality proven by credible statistics she admonishes women that once you know your reality you make sure it doesn't affect you anymore. She encouraged women to be prepared to take up roles in emerging sectors, develop a growth mindset, understand your purpose, develop resilience and that can only happen when you learn from the things that made your fail, know the skill gap you have and understand the skill gap needed to fulfil your purpose and be proactive enough to fill them, women must remain tech-savvy (internet of things), develop your personal network and think globally. Yetunde Bankole-Bernerd spoke on changing the game from inside out.
The second keynote speaker of the day Tara Fela-Durotoye spoke passionately on the role on community integration, nation-building, value systems as an employee and employer, staying power and hard work as key elements to stay up in the new future we find ourselves in. Other speakers of the day Mosunmola Umoru spoke on cracking the gender code while Ubong King spoke on the power of networks.
The founder wrapped up the virtual event on a high note, thanking all our special guest and speakers. Finally, she encouraging delegates to put all they have taken away from today into action and make sure they do all that is possible to see the future they desire because it is possible.