ENTERPRISE SKILL DEVELOPMENT PROGRAMME 2022
The 360 Woman Africa Entreprise Skill Development Training Is Ongoing!!!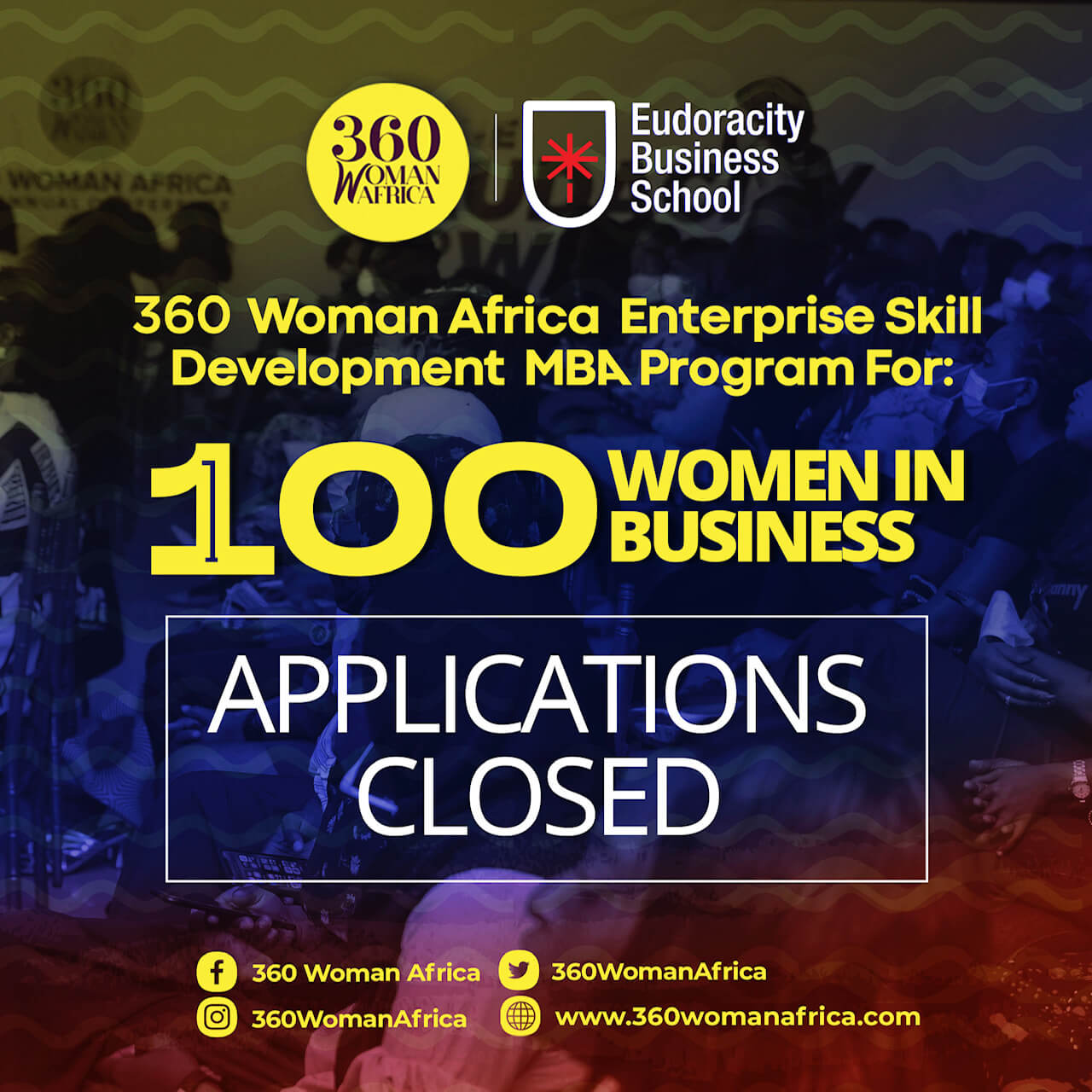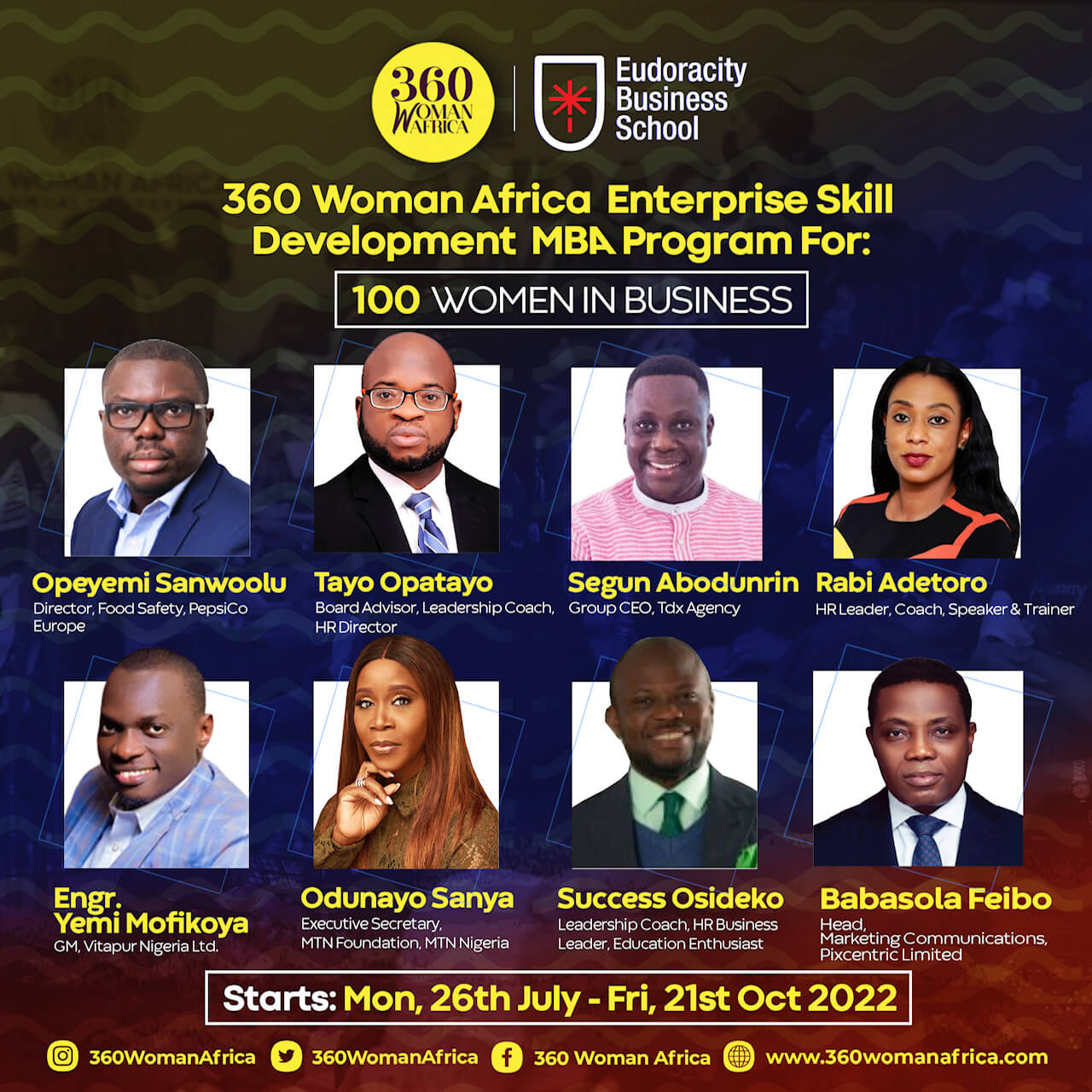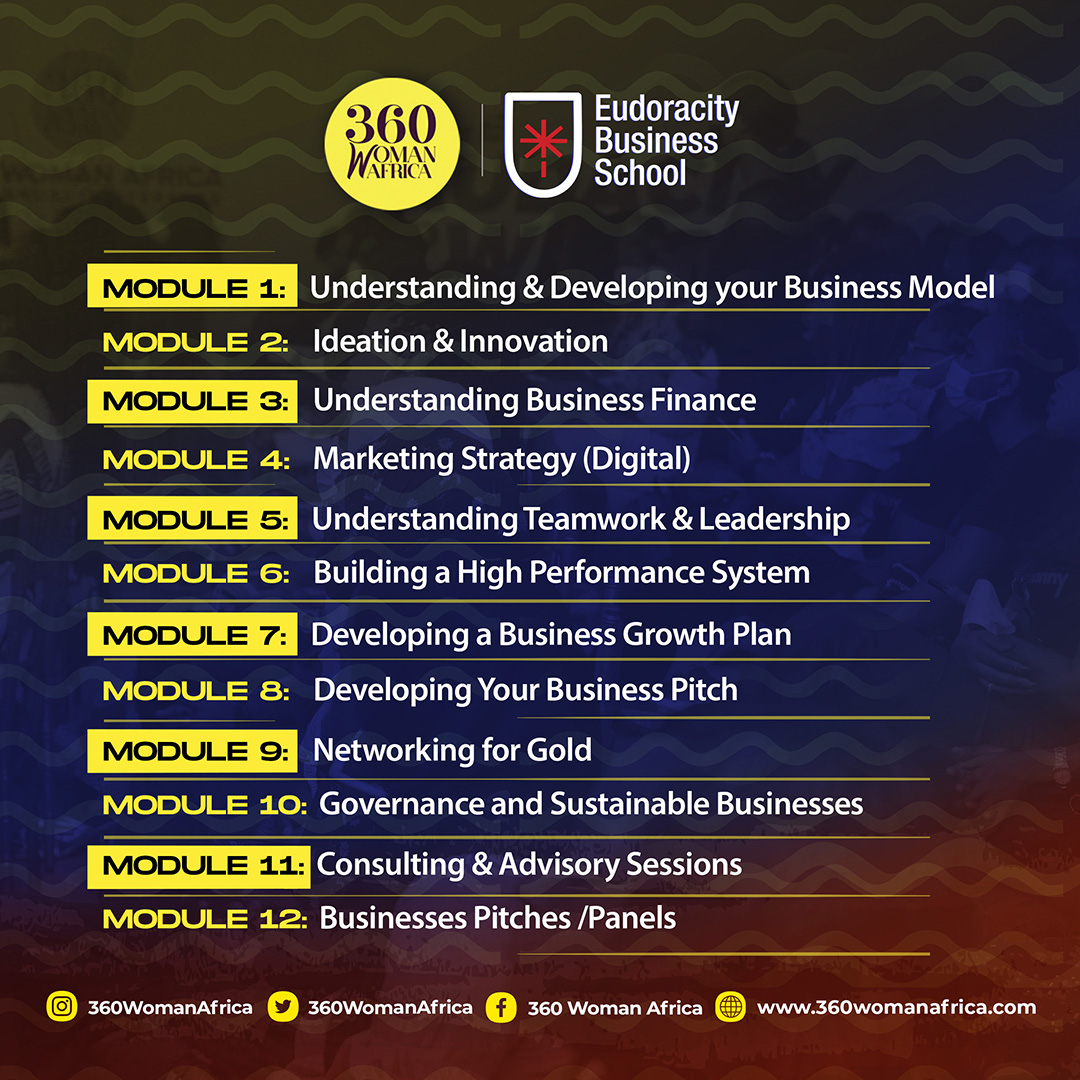 360 Woman Africa is on a mission to build Africa's largest funding,training and investment ecosystem for women in Business and to to take this further for the second time 360 Woman Africa is glad to announce her Enterprise Skill Development MBA program for Women Entrepreneurs in partnership with Eudoracity Business School . Eudoracity Business School is a leading virtual business School in Nigeria with a proven, admirable track record and result. This partnership will deliver her finest faculty globally which includes C-suite industry leaders within various industries with over 100years of combined business work life with tie one organizations, who are also alumni of global business schools like Harvard, Warwick , In-seed , Stanford ,Lagos Business School , industry award winners etc . Youths and women form 60% of the commonwealth population and  50.4% in Sub-Sahara Africa,and 43.43% of Women owned MSME in Nigeria(National Bureau of Statistics) through this program 360 Woman Africa plans to upskill  100 women entrepreneurs through the 3 months MBA program and provide them access to finance as Grants for their businesses. 
 At the end of the three months graduates will also stand a chance of winning a part of 3,000,000.00 Naira Empowerment Fund for Women in business Batch 2. 
Thank you and All the best to the 2022 Set of 360 Woman Africa Enterprise Skill Development Training.
The currently ongoing class has seasoned industry experts and coaches taking on the following modules:
The currently ongoing class has seasoned industry experts and coaches taking on the following modules:
Understanding & Developing your
business model
Ideation & Innovation
Understanding Business Finance
Marketing Strategy (Digital)
Understanding Teamwork & Leadership
Building a High-Performance System
Developing a Business Growth Plan
Developing your Business Pitch
Networking for Gold
Governance and Sustainable Business
Consulting and Advisory Sessions
Business Pitches/ Panels
ESDP FACULTY 2022
 Mr. Success Osideko (Founder, Eudoracity Business School )
Mr. Ope Sanwoolu (Director, Food Safety at PepsiCo Europe)
Ms Yvonne Chioma Ofodile (CEO, Zetile Oil and Gas Ltd and Founder, 360 Woman Africa)
Engr. Yemi Mofikoya, (GM, Vitapur Nigeria Ltd)
Mr. Babasola Feibo (Head, Marketing Communications, Pixcentric Limited)
Mr. Tayo Opatayo (Board Advisor, Leadership Coach, HR Director)
Mrs. Rabi Adetoro (HR Leader, Coach, Speaker & Trainer)
Mrs. Odunayo Sanya (Executive Secretary, MTN Foundation, MTN Nigeria )
Mr. Segun Abodunrin (Group CEO, Tdx Agency)